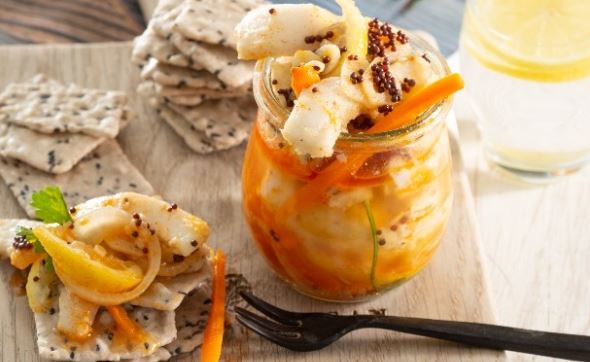 Bring that holiday feeling to the table with delicious seafood dishes – from curry and biryani to pizza and calamari pickles. Delicious with a glass of wine!
1. Soup with seafood and bacon
The bacon gives its smoky flavor to the seafood in this delicious soup.
Tip- Sprinkle the parsley on top and serve with fresh bread and lemon wedges.
2. Fried mullets with Mediterranean salsa
When you open the cooked herring it's easy to remove the backbone – but watch out for finer bones when you tuck in.
Tip- Place the potatoes in a serving bowl, arrange the fish on top, and spoon over the salsa.
3. Calamari pickle
Delicious with savory crackers or a slice of wholemeal bread.
Tip- Top savory crackers or bread with the calamari.
4. Fish biryani
This fish is a delicious, affordable alternative to hake and will suit any flavor profile.
Tip- Serve with the sambal.
5. Fish curry
The fish is smothered in a delicious, fragrant sauce made with coconut milk.
Tip- Serve the curry with the papadums, basmati rice, and sambal.
6. Seafood pizza
Treat yourself to this easy-to-make seafood pizza.
Tip- Finish with pecorino shavings, micro herbs, or arugula.